Aiden Grant
A FIRST TIME PASS
Great experience all round passed first time.
Howell Guce
A superb first time pass
I could not have been any happier passing my test first time with Gareth! A calm, cheery and all-round great guy to have with as your driving instructor! Gareth will genuinely take the time to ensure you are comfortable with your driving experience and would be very accommodating with lessons if you cannot make an allocated slot. He has furthered my confidence in driving and it is thanks to him i have passed today! Thank you Gareth! 😄
Fern Girvan
A great first time pass
Over the last couple of months, Gareth has given me a great boost with my practical driving skills and helped get me geared up for the test. Gareth is a quality instructor, and is well worth having in your passenger seat coming up to the test. He is capable of passing on his knowledge of driving clearly and succinctly without over complicating things that need not be overcomplicated. He is good company and is human in the way that he teaches driving. He's very patient and does not mind you asking the same question whenever you need to be reminded of something. Gareth is overall a well rounded instructor and is the kind of person you need to boost your driving ability.
Debbie Macdonald
A great pass after beating those test nerves
Cannot rate Gareth highly enough, got loads of encouragement and top banter too! Will actually miss my lessons.. never thought i would hear myself say that!!
Daniel Macrae
A great first time pass
Would highly recomend Gareth to anyone. Best driving instructor you can ask for, really reassuring when you do anything wrong and will always go out of his way to perfect everything.
Reece Allan
A great pass
Couldn't have got a better instructor, great guy.
Inez Imray
A great pass
Gareth has been an absolute rock and so patient with me through my lessons! He has been on time, organised and put in extra hours anywhere he could to suit me. He has been a totally calming presence in the car who chats away to you so you feel at ease! His feedback is clear and useful, he has taught me everything to the highest standard I could ask for and he knows your strengths and areas to work on inside out. I've learned to be a safe and confident driver and couldn't recommend him more.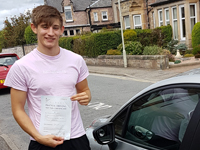 Lewis Hilditch
A great first time pass
Gareth is the best instructor you can hope for. His ability to keep patient and calm and still keep teaching in such an easy to understand way makes the whole learning experience enjoyable! Would definitely recommend to anyone looking for lessons.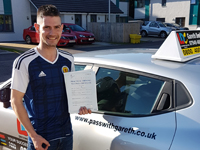 Robert Paterson
A superb first time pass
Great instructor. Over the past year I have being taking lessons with Gareth, including a 9 month gap where I couldn't financially keep up with lesson. Gareth was completely understanding and when I got back in touch it wasn't a problem to get back on the road. Thanks again Gareth 👍🏻 'Robert was a pleasure to teach and took to the LDC system really well abd produced an amazing drive to pass. '
James Hogg
A great pass
LDC and driving Instructor Gareth Smith is an excellent choice of driving instructor I would highly recommend this company and Gareth Smith. 'James did superbly to take on board everything and beat those nerves to pass'
Wayde Buley
A great first time pass
Great instructor, very good at teaching, would recommend to anyone.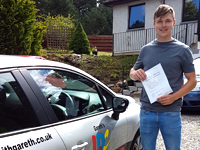 Gus Richards
A great first time pass
Great instructor, got me ready for test quickly. Good crack aswell, Top lad.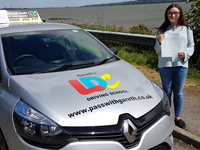 Amy Ferguson
A great pass
Thanks Gareth for all the encouragement and help! Gareth is a great instructor whose enthusiasm for driving is infectious. He identifies issues with your driving easily and is very clear with his explanations of how to make corrections and is incredibly patient. Would recommend to anyone learning to drive!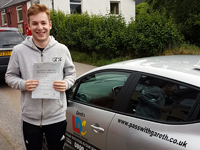 Kyle MacBeath
A great pass
Amazing instructor and very very helpful. 5 stars
David Squires
A great pass for David
Huge thanks to Gareth, I couldn't have asked for a better instructor. Friendly, helpful, efficient and really good teacher. I would highly recommend anyone thinking of learning to drive to look no further.
Duncan Fraser
Great first time pass
Enjoyed my driving experience, Gareth is both a top lad and professional...highly recommend. 'Duncan was great to teach and managed to pass with just 25 hours tuition. Was always willing to listen and put into practice all we discussed. Well done again'
Megan Williamson
First time pass
Passed first time with only 20 hours! Massive thanks!. 'Megan was a pleasure to teach and took on board all learning very well to produce a great drive and excellent pass'
Joe Tuddenham
A great first time pass
Gareth is an excellent instructor. Incredibly patient with you, whilst being firm when needed. Any areas I struggled on he was sure to break down and give me ways in which I could learn. Got through my test first time and can't thank him enough. 'Joe was a pleasure to teach and always keen to take on board any teaching and tips given. A great drive on test too. Well done'
Ellie Pearce
A great first time pass
I recently learnt to drive with Gareth and would fully recommend him. As quite a nervous driver he put me completely at ease and always made the journeys entertaining as well as educational. Gareth taught me the key driving skills quickly and efficiently in a manner that was easy to understand. He was always punctual and professional. I was thrilled to pass first time and put this entirely down to his incredible teaching ability. Thanks again Gareth! 'It was a pleasure to teach Ellie and she battled those test day nerves to produce an immense drive and test pass.
Jamie Fraser
A great pass
Gareth was a Brilliant instructor,would recommend him to anyone that is looking to learn to drive. Breaks everything down so it's easy to understand. Thanks again Gareth, best decision I made was to learn to drive with you. 'a great drive from Jamie and a pleasure to teach. Am impressed that it took 8 months for the review to come in too- ha ha
Nicole Mamet
Great first time pass
Gareth Smith is an amazing instructor especially for someone like me who needs that little confidence boost! I passed first time with only 3 minors and would highly recommend him to anyone! 'It was a pleasure to teach Nicole. Always willing to listen and learn. A great drive today'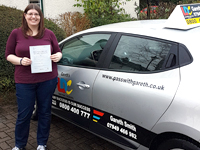 Kerri McEwan
First time pass
I passed my driving test first time after lessons with Gareth back in December. He is an excellent instructor - he understood exactly the way I learned and adapted his teaching to suit me, pushing me when I needed to be pushed and supporting/talking me through things I wasn't sure about. He was punctual, professional, and calm and collected regardless of the situation. He is really friendly and I got on well with him. I always felt comfortable getting in the car with him. I can't recommend him enough, in fact, I recommended him to my boyfriend for when he decides to get his license, after only a few lessons with Gareth! I'm almost ready to get rid of my P plates now - Thanks again! 'it was a pleasure to teach Kerri. Always willing to learn and did amazingly well on her test'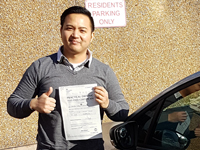 Denver Naguit
First time pass with one minor
Gareth Smith is a fantastic instructor who teaches with passion and i will recommend him to anyone. He is very knowledgeable, professional and calm guy who talks you through from start to finish. Very supportive, promotes your strengths and supports you in your weaknesses. He will make you feel comfortable and encourage you to be at your best while being fair to make sure you are learning what you need to learn 'safe driver'. Gareth makes sure you understand what he teaches you and uses humor. He cares about you, your goals and intentions. Always on time, never late and will never use your time for his own benefit. He is honest and open, very approachable and will coach you to the best of his abilities. I have experienced all this when i did my lessons with him and have passed it with 1 minor fault, no major on my first try. Highly recommended and appreciated. 'Denver was a pleasure to teach and took all the learning on board and produced a superb drive on test. Safe driving.
Rhianne Mcdonald
Beating those nerves to get a great pass
I can't thank Gareth enough for helping me pass my test! Great crack but always professional! Would recommend to anyone wanting to pass!. Rhianne came to me after failing her test before with another instructor. We worked on beating those nerves and she produced a superb drive to get some very good feedback from the examiner.
Sam Morrison
First time pass
Can't recommend Gareth enough very patient and easy going guy but is firm with you when he needs to be, just past my test first time today which was a long time coming for myself. Can't thank you enough Gareth.
Tammy McNeill
First time pass
Thank you so much for getting me past my driving test today, couldn't of done it without you making me feel so comfortable. Not sure what am gonna do now not getting up at 6 for a lesson😂 But honestly such a good listener & teacher😁👍🏻 5* all the way 😃 Thanks again!
Francisco Santos
A brilliant drive
Gareth is an amazing driving instructor! Always professional, helpful and very patient. He helped me to improve my confidence on the roads and my performance as a driver. Very punctual and friendly, he's the driving instructor I would absolutely recommend! Thank you for everything! 'Francisco was a pleasure to teach and did so well on his test. Safe driving'
Robert Weatherspoon
First time pass
Gareth is an excellent instructor who will help you build up your confidence on the roads. Although I only had a few lessons with him I really felt a big improvement in my driving and definitely took a lot more pleasure in driving. I would definitely recommend going with Gareth if you are looking to get a good all round experience and get a pass certificate at the end of it! 'Robert came to me for a test boost set of lessons and did so well to take on board the changes required to help him be test ready and achieve a solid first time pass. Well done.
Callum Mackillop
A great fIrst time pass
Gareth did a brilliant job of getting me passed test first time. I would highly recommend him as a driving instructor.
Callum was a pleasure to teach and it showed how good he was to sit his test in an bigger town he didn't really know or learn in. Even reindeer and Santa blocking the road during test did not put him off. Well done once again.
Marcus Sellars
A great drive
"Great to help Marcus pass and a great review below from his mum"
What a fantastic Driving Instructor! Highly recommend Gareth to everyone. He is just the Best in this area... covers Grantown on a Wednesday so if you can get lessons booked with him then go for it, just a lovely guy who really cares, and does an amazing job. 5stars. Thanks Gareth for all your time, effort and patience.
Yvonne hope
First time pass with no minors
I've been with a few driving instructors over the years and i gotta say Gareth is defo #1.
Laura Keiller
First time pass
Can't thank Gareth enough for all his patience with me! Was so nervous from the begriming, never thought I would be able to drive. Just passed my test first time& I would never of been able to do it with out all his help. Really appreciate him coming down to Newtonmore/Kingussie to get me ready for my test that I sat in Kingussie. Can't recommend him enough! Good chat as well, just made me feel at ease& made me believe in myself that I could do it. Thanks again!
Billie McCourt
No minors- a clean sheet
Gareth is absolutely amazing! So patient and friendly. Helped me through everything and always made sure I was 100% on everything I needed to know! LDC book also helped a lot for revision before test and the YouTube videos. I can not thank Gareth enough!
Shaun Smith
Not just taught how to pass but how to be a safe and confident driver!!!!
Gareth helped me pass in a short amount of time and was very punctual and professional every lesson. He doesn't just teach you how to pass but how to be a confident, safe driver. The first 5 lessons for £99 and then buying block bookings works out at some of the best prices around and I'll be booking the wife's lessons through him in the future and I highly recommend him and LDC. Thanks again Gareth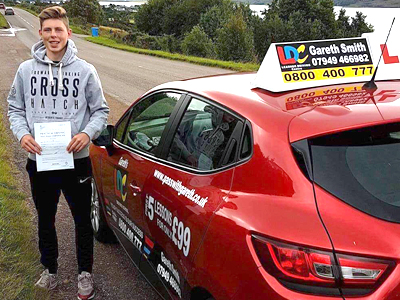 Marcus Sellars
A great pass for Marcus
I enjoyed learning with Gareth, a great instructor. Easy to understand instructions and good crack too. I found the LDC book useful and the lessons were well planned.
Elisha Gilham
First time pass
'Gareth took me on after an assessment drive (I wasn't feeling that I was progressing with my previous instructor). Within 2 weeks gareth had my test booked. He boosted my confidence and taught me that I do have the skills required to be a successful & competent driver. Gareth has a great personality & is good at keeping calm. He is also very good at explaining the process and reasons why. I would have no issues in recommending gareth to anyone learning to drive and have already told my sister to get in touch with him about her lessons'......... ..Elisha was a pleasure to teach and a very competent driver and am glad I helped to give her the confidence to pass first time. Delighted for her